By Kevin Annett on March 6, 2017
By Gordon Duff, Senior Editor on March 3, 2017
DNA analysis confirm suspicion several hundred children were buried in unmarked graves at former Catholic home for unwed mothers
THE LAST PROVOCATIVE TERROR ATTACK IN TERROR STATE TURKEY – THE ASSASSINATION OF THE RUSSIAN AMBASSADOR
sasunhaber
December 19th, 2016
                                                     sonun  başlangıcı 
                                              the beginning of the end 
                                      the  kemalist  domneh  jews  plot
                                            début de la fin      بداية النهاية     
      
     
sasounhaber
16 Temmuz 2016
                                         SADIQ  KHAN
                                 A  NEW  MARIONETTE
                        IN  THE  GARDEN  OF  LONDON
         MADE  BY  ANGLO-AMERICAN  IMPERIALISM
SASOUNNEWS  MAY 6,  2016
                    WHOEVER  PLAYS  WITH  FIRE,  WILL  BE  CONSUMED  BY  FIRE
                                                  PROVERBS  6:27
                                                      eyr dog âne – deformated image, sasounnews
SASOUNNEWS
13/03/2016
By Jim W. Dean, Managing Editor on March 7, 2016
7/3/2016
Islamic  Republic  of  Sweden
http://www.liveleak.com/view?i=fa1_1445367246
Wikileaks  Exposes  Secret  Deal  to  Get  Saudi  Arabia on  UN  Human  Rights  Council
Published On: Thu, Oct 1st, 2015
http://nsnbc.me/2015/10/01/wikileaks-exposes-secret-deal-to-get-saudi-arabia-on-un-human-rights-council/
Islam a Fraud – Scholar Studies Prove
Sep-1-2015
Question – who came first the Quran or Muhammad ?
Studies prove, that Muhammad is a farce and existing text pre-existing Muhammad were adulterated to fit a political power grab.
Islam, the idea that Muhammad got the Quran from Allah, recited it, then it was written down – all of that might be based on a faulty assumption
And that is that Muhammad was around before the Quran.
In fact, Robert Spencer, whose Jihad Watch website provides an authoritative source for the impact of Islam, says it's possible "some other individual or group used texts that were already in existence and shaped them to fit their own political and theological agenda."
Spencer cites a recent report in the Daily Mail, which described how several pages were carbon-dated by experts at Oxford, who found not only were some of the pages likely from the oldest Quran in the world, they possibly were created between 568 AD and 645 AD.
The dates given for Muhammad's life often are 570 AD to 632 AD, meaning the fragment could have been in print (hand-written on parchment) two years before Islam's founder was born.
"On July 22, I wrote this about the same Quran manuscript," said Spencer, citing his earlier posting:
"So if this is a fragment of the Quran as it now stands…and yet it could date from as far back as 568, two years before Muhammad is supposed to have been born, it might not be a fragment of the Quran at all. It could instead be a portion of some source that later became part of the Quran."
READ  MORE  = >
http://www.liveleak.com/view?i=254_1441162520
Irish Arab tourist to spoke on Turkish television
The Kuwait-born tourist, Mohammed Fadel Dobbous, said he loves Turkey.
Mohammed Fadel Dobbous, went to a local market in Aksaray neighborhood to get a bottle of water, before accidentally toppling all the bottles in a refrigerator after opening the door.
The owner of the shop immediately intervened, holding a stick to threaten the tourist.
Around 15 kurdish shopkeepers then came to the shop owner's support carrying different tools, ranging from sticks to stools.
It later came to light that the Irish tourist had in fact been a professional boxer.
Londonistan  2015 –   

Violent  Clashes  Between  Different  Groups  Of   Violent  Peaceful  Moderate  Muslim  Immigrants
http://www.liveleak.com/view?i=716_1439833459
Raveled:  Captive  American  Girl  Was  Baghdadi's "Personal  Sex  Slave"
Aug-15-08-2015
Abu Bakr al-Baghdadi ISIS ruler kept Kayla Mueller, 26-year-old American air worker as his personal sex slave' before she was killed in February.
The parents of Kayla Mueller revealed Friday that their daughter was repeatedly raped by ISIS caliph Abu Bakr al-Baghdadi before her death.
ISIS announced the 26-year-old's death on February 10, saying she had been killed in a coalition air strike.
Before her death earlier this year, 26-year-old Kayla Mueller was a sex slave for the top leader of the Islamic State, the American aid worker's parents have revealed.
READ MORE = >
http://en.alalam.ir/news/1729575
Turkey  becomes  Israeli  tourists ' No. 1 destination  in  July                                 

Aug-12-2015

 
http://www.liveleak.com/view?i=d3d_1439353869
Despite the chilly relations in the diplomatic arena, Turkey has become the most active destination for flights from Israel, according to an Israel Airports Authority (IAA) summary of the month of July, which was released Monday.
The United States, which has been the most active destination of direct flights from Israel for years, fell to the third place, while Greece went up to the second place.
A total of 172,507 Israelis and tourists traveled on the Israel-Turkey route throughout July, a 30 percent increase from July 2014, when Operation Protective Edge began. It's too early, however, to announce an improvement in the relations, as many of the passengers flying to Istanbul took connecting flights to other destinations in Europe, the Far East or America.
Greece came in second with 169,248 passengers and a 29.7 percent increase, while the US reached the third place with 136,373 passengers and an increase of less than 10 percent. (The data refer to direct flights only, as there is a major traffic of passengers flying to the US through Europe).
The route to Germany came in fourth with about 135,000 passengers, a 23 percent increase, followed by Italy with 123,176 passengers and a 20 percent increase.
A breakdown according to first destination reveals that the most active airport for flights from and to Israel was Charles de Gaulle Airport in Paris with 81,737 passengers, followed by Atatürk Airport in Istanbul with 66,946 passengers and a 45.5 percent increase from July 2014, and the Antalya airport with 61,713 passengers and a 4 percent increase from the same period last year.
The airport with the fourth highest activity is John F. Kennedy International Airport in New York with 61,534 passengers and a 4 percent decrease from July 2014. The main reason for the drop is a 15.5 percent increase in traffic to Newark Liberty International Airport.
Heraklion International Airport in Crete came in fifth with some 60,000 passengers and a 34.5 percent increase.
A total of 1,768,300 passengers (both Israelis and tourists) passed through Ben-Gurion Airport in July. This figure exceeded all IAA expectations, presenting a 20 percent increase from July 2014.
Turkey  Used  Bunker  Buster  Bombs  First  Time  On  PKK  Caves  in  IRAQ
Aug-11-2015
400 Members of the PKK terrorist organization have been killed and hundreds injured in two weeks of Turkish airstrikes on positions in northern Iraq,
The report said at least four PKK leaders were among the dead.
Turkey last month launched anti-terror offensive against PKK after a wave of attacks inside the country conducted by the Outlawed organisation.
"So far 390 terrorists have been rendered incapable of causing harm and another 400 have been injured."
This is the first time Turkey was using it's own developed bunker buster bombs to target militants hiding in caves.
Penetrator Bomb (Turkish abb. NEB), which is the first concrete penetrator system developed in Turkey, is designed to be used against surface and underground targets. NEB contains Multiple Warhead Systems (MWS) technology. NEB has similar external geometry, guidance unit interfaces, mass, center of mass and intertia properties with MK-84 GPB.Penetration Performance: Minimum 2.1 m 35 MPa reinforced concrete.
High penetration performance even at low impact velocities and angles,[/*]High fragmentation effect against secondary surface targets with pre-formed fragments utilized in Augmenting Charge design,[/*]Programmable fuze delay times,[/*]Usability against various target types,[/*]Potential to be used with all guidance kits which are compatible with MK-84 (2000 lb.) GPB,[/*]Potential to be dropped from all aircrafts which can carry MK-84 (2000 lb.) GPB.[/*]
http://www.liveleak.com/view?i=014_1439235089
                                                    ԻՍԼԱՄԱԿԱՆ
                                 ՍԱՏԱՆԱՅԱԿԱՆ   ՊԵՏՈՒԹԻՒՆԸ                              
ԵՒ
ՆԱՒԹԱԳՆՈՐԴՆԵՐԸ
                                                        

ISLAMIC

                         
SATANIC   STATE                          
&   THE
PETROCLIENTS
                                               بسم  الله  الرحمن  الرحيم
Սատանայի իսլամական պետութեան՝ այսպէս կոչուած Իրաքի եւ Դամասկոսի Իսլամական Պետութեան ստեղծած նաւթավաճառքի սեւ շուկայի գնորդները առաջին կարգին կը հանդիսանան Նոր Աշխարհի Կարգի հայրենական կայսրութիւնները, իմա՛ Ամերիկայի Միացեալ Նահանգները եւ Միացեալ Թագաւորութիւնները, որոնցմէ ետք իրենց պոչերը, ինչպիսիք Եւրոպական կայսրութեան բջիջներ, նաեւ տարածաշրջանի շաքալները՝   Թուրքիա,  Իսրայէլ,  եւյլն:
Պէտք է պատկերացնել Թուրքիոյ շահաբաժինը երբ հարիւրաւոր միլիոններու արժող նաւթագնումները կը կատարուին իր տարածքէն ներս:
Յունիս 2014-ին, համակարգչային թղթածրարներու կալանում մը ի յայտ բերաւ Սատանայի այս պետութեան հաշուեգումարները, զորս կը գնահատուէին 875 միլիոն տոլարով: Այդ հարստութիւնը այսօր հասած է  արդէն  իսկ  2  պիլիոն  տոլարի  քանակին:
http://oilprice.com/Energy/Crude-Oil/Who-Is-Buying-The-Islamic-States-Illegal-Oil.html
Զանցառելի չէ նաեւ առեւանգուածներու ազատ արձակման համար պահանջուած գումարներու «եկամուտները», որոնց կարգին կնամարդու  վաճառքի  բարբարոսութիւնները:
 Աւելին՝
http://maratoug.com/archives/7570
ISIS Executes 19 Girls for Refusing to Be Sex-Slave
06 August 2015 16:47
http://en.alalam.ir/news/1727025
http://en.alalam.ir/news/1726424
Iraq  Kurds  Condemn  PKK  pipeline  attack
03  aug.  2015
The autonomous Kurdish Regional Government of Iraq has condemned a Kurdish Workers' Party (PKK) attack on a Turkish pipeline, saying that Iraqi Kurds were the main victims of the act of sabotage.
The KRG's Ministry of Natural Resources decried the July 29 bombing outside Turkey's Sirnak that put the Kirkuk-Ceyhan pipeline out of service in a statement issued Sunday, emphasizing that it had cost Iraqi Kurdish authorities $250 million dollars.
READ  MORE  = >
http://www.liveleak.com/view?i=384_1438602525
One  year  after  ISIL  bloodshed  Iraq's Yazidis  still  suffering
03 aug. 2015

http://www.liveleak.com/view?i=759_1438609502
Sultanic  AKP

 Trys  to  F  Over HDP :   HDP  Poll  Numbers  Climb :  Turks  Awaken  to  AKP  BS
     Jul-27-2015
Military operations recently launched against the outlawed Kurdistan Workers' Party (PKK) as well as remarks by a leading ruling party figure implying that a pro-Kurdish party often accused of being affiliated with the PKK (with no proof, and only claims of an inorganic relationship by the AKP, and typical b.s. from MHP) could be closed down may well be part of a government plan to carry the acting ruling party to power in a possible early election.
After criticizing the pro-Kurdish Peoples' Democratic Party (HDP) for failing to condemn the recent PKK violence, Mustafa Şentop, deputy chairman of the ruling Justice and Development Party (AK Party), said on Sunday political parties can be closed down only for one reason in Turkey, namely being linked to a terrorist organization.
The AK party lost a significant number of voters to the HDP in the predominantly Kurdish Southeast in the June 7 election. This was a large blow to the AK Party as it failed, for the first time since coming to power in 2002, to win enough seats in Parliament to form a single-party government. "I feel this is part of a strategy to come to power as a single party," Seyfettin Gürsel, the director of Bahçeşehir University's Center for Economic and Social Research (BETAM), told Today's Zaman.
President Recep Tayyip Erdoğan, who was accused by the opposition of trying to block efforts to forge a coalition government after the election, is also widely claimed to be seeking an early election.
Taking the military operations and the targeting of the HDP by the government as a sure sign of an early election, Gürsel added, "The AK Party could trying to close down the HDP if it feels it will not be able to push [voter support for] the HDP below the election threshold."
READ  MORE = >
http://www.liveleak.com/view?i=42e_1438041754
TEHRAN (FNA)- A discontented nurse working clandestinely for a covert medical corps in Şanlıurfa—a city in Southeastern Turkey, close to the border with neighboring Syria— divulged information about the alleged role which Sümeyye Erdogan plays in providing extended medical care for ISIL wounded militants transferred to Turkish hospitals.
Living in a dilapidated apartment in Istanbul's outskirts along with her two children, a 34-year- old emaciated nurse who spoke on the condition of anonymity for fear of retribution, disclosed her seven-week agonizing ordeal of working in secret military hospital in Şanlıurfa, 150 km (93 miles) East of Gaziantep and 1,300 km (808 miles) Southeast of Istanbul, Global Research News reported.
"Almost every day several khaki Turkish military trucks were bringing scores of severely injured, shaggy ISIL rebels to our secret hospital and we had to prepare the operating rooms and help doctors in the following procedures," she said.

"I was given a generous salary of $ 7,500 but they were unaware of my religion. The fact is that I adhere to Alawite faith and since Erdoğan took the helm of the country the system shows utter contempt for Alawite minority – Alawite faith is an esoteric offshoot of Shia Islam," Said the nurse.
A London-educated scion of wealthy family and the eldest daughter of totalitarian President Erdoğan, Sümeyye Erdoğan, more than once announced her intention to be dispatched to Mousl, Iraq's once second-biggest city and ISIL's stronghold to do relief works as a volunteer which drew public ire and vast condemnation from Turkey's opposition parties. Moreover, the Turkish opposition parties accuse the administration of Recep Tayyip Erdoğan of seeking diligently to hide the truth concerning numerous financial malfeasances Erdoğan son, Bilal Erdoğan, is involved.
Erdoğan who always sheds crocodile tears for the plight of Syrian trapped between the hammer of hunger and the anvil of ISIL extremism, conceals the fact that his own son, Bilal Erdoğan, is involved in lucrative business of smuggling the Iraqi and Syrian plundered oil. Bilal Erdoğan who owns several maritime companies, had allegedly signed contracts with European operating companies to carry Iraqi stolen oil to different Asian countries.
20000 musulmans prient dans un parc de  Birmingham  pour   » célébrer  »  la  fin  du  ramadan !
2015
http://resistancerepublicaine.eu/2015/20000-musulmans-prient-dans-un-parc-de-birmingham-pour-celebrer-la-fin-du-ramadan/
New York : l'Empire State Building  en  vert  pour  célébrer  

l'Aïd el-Fitr
L'Empire State Building s'est illuminé de vert vendredi soir à New York, pour célébrer l'Aïd el-Fitr.
L'éclairage vert devait durer jusqu'à la fermeture du célèbre gratte-ciel au public à 2 heures du matin, quand ses lumières traditionnellement s'éteignent.
L'Empire State Building célèbre ainsi l'Aïd el-Fitr «depuis plusieurs années, c'est une illumination annuelle», a précisé à l'AFP une porte-parole du bâtiment.
http://journaldumusulman.fr/lempire-state-building-en-vert-pour-celebrer-laid-el-fitr/
Exécutions de l'EI:

une mise en scène dévoilée,  McCain  éclaboussé
Des hackers du groupe CyberBerkut ont publié une vidéo de l'exécution de prisonniers de l'organisation terroriste Etat islamique (EI), qui, d'après les images, a été filmée dans un studio d'enregistrement.
Les hackers ont expliqué avoir trouvé la vidéo sur un support électronique appartenant à un collaborateur du sénateur américain John McCain.
"Nous, le groupe CyberBerkut, avons eu à notre disposition un fichier dont il est difficile de sous-estimer l'importance! Cher sénateur McCain, nous vous recommandons de ne plus prendre avec vous des documents secrets dans des voyages à l'étranger, surtout en Ukraine".
D'après les images de la vidéo, un "prisonnier" est "exécuté" devant plusieurs caméras, sous un éclairage bien choisi. Un acteur, habillé en bourreau du groupe Etat islamique, met un couteau près de la gorge du "séquestré", qui fait mine d'en souffrir.
Rappelons que depuis août 2014, les terroristes de l'EI ont publié plusieurs vidéos d'exécutions. Leurs victimes étaient pourtant miraculeusement calmes, prononçaient leurs derniers mots et mourraient dans les bras des terroristes. De nombreux internautes ont considéré ces vidéos comme fictives, notamment à cause des réactions des victimes et de la qualité des vidéos.
Les Américains ont été plusieurs fois blâmés pour avoir fabriqué des vidéos du groupement l'Etat islamique. Ainsi, une étudiante de l'Université de Nevada Ivy Zidrich aaffirmé à Jeb Bush que son frère, l'ex président US Georges Bush, avait créé l'organisation de l'EI.
Lire la suite: http://fr.sputniknews.com/international/20150711/1016963919.html#ixzz3flC0tYx3
The  Saudi  Cables
Over half a million cables and other documents from the Saudi Foreign Ministry.
A  total  of  61214  published  so  far
Exclusive:

Captured  Documents  Prove Turkish  Alliance  with  ISIS
Posted by Gordon Duff, Senior Editor on June 16, 2015
http://www.veteranstoday.com/2015/06/16/exclusive-captured-documents-prove-turkish-alliance-with-isis/
VT gets docs outlining Turkish intelligence support for ISIS and more
By  Gordon Duff  and  Nahed al Husaini
Veterans Today's Damascus bureau received the above document yesterday after Kurdish forces overran the ISIS defenses in the city of Deir Ezzor on the Euphrates River.  This operation has flanked ISIS military headquarters in Raqaa and isolated it from supplies and reinforcements from Mosul and ISIS centers in Anbar Province, Iraq.
On May 6, 2015, the US Delta Team raided Deir Ezzor.  The US claimed it killed an ISIS oil official and captured his wife will killing up to two dozen ISIS fighters.  There are no confirmations of an attack of this nature by US forces inside Syria.
The operation that secured Deir Ezzor on June 14, 2016 was commanded by a good friend, Sheikh Muhana Al Fayadh who commands one of Syria's largest tribal militias.  Jim Hanke (Col. USA SF) and I had dinner with the Sheikh in late November 2014 in Damascus.
The document captured by Sheikh Muhana al Fayadh's fighters outline the direct relationship between ISIS or Caliphate governors and military commanders and their counterparts with Turkish intelligence.  Translation as follows
In the name of God
Islamic state Al Raqaa Province
No 104 Friday
To Abu hamzeh the governor of Raqaa
We notify you that Abou Baraa Al Sahrawi has asked for surveillance equipment from Turkey.

The Turks refused to give him the equipment without the official approval of the Raqaa Governor (for ISIS)

Signed by the governor of northern province (ISIS)
Abou Baraa al Sahrawi is a British born Muslim extremist, trained in Israel according to Jordanian sources.  He is currently serving as ISIS military commander in Raqaa.
Assassination Teams
Other documents captured outline a plan to assassinate President Bashar al Assad.  This document outlines an agreement from March 2015 between Israeli intelligence and Turkey.  Turkey agrees to provide personnel for the assassination team and Israel is to supply equipment and training for the team.
ISIS  Colonel  was  Trained  By  Blackwater  and   U.S.  State  Department  for  11  Years
Op-Ed by Cassius Methyl
June 11, 2015
http://theantimedia.org/isis-colonel-trained-by-blackwater-and-us-state-department/
ARRÊTEZ  LE  FOU ! Erdogan menace publiquement  le  journal  qui  a  révélé  ses  relations  terroristes
Le président turc Recep Tayyip Erdogan reste dans le déni. Un déni perpétuel alors qu'il aide Daesh à conquérir la Syrie, d'une part, et la'Irak, d'autre part. Il a donc menacé publiquement de représailles le journal qui a publié des images montrant des livraisons d'armes par Ankara aux « rebelles extrémistes syriens », selon la presse mainstream, pour ne pas parler de Daesh. On peut le comprendre. A moins d'une semaine des élections législatives du 7 juin, ces révélations ne sont pas bonnes pour lui, le petit terroriste en col blanc.
« Je pense que la personne qui a écrit cet article exclusif paiera un prix très lourd pour ça (…) je ne le laisserai pas s'en sortir impunément », a déclaré M. Erdogan. Le quotidien turc d'opposition Cumhuriyet a diffusé des photos et une vidéo montrant des obus de mortier et des caisses de munitions dissimulés sous des médicaments dans des camions, officiellement affrétés par une organisation humanitaire, interceptés en janvier 2014 par la gendarmerie turque près de la Syrie.
Cette affaire a viré au scandale politique quand des documents officiels publiés ensuite sur internet ont montré que ces camions appartenaient aux services de renseignement turcs (MIT) et transportaient armes et munitions destinées aux rebelles islamistes syriens en guerre contre le président Bachar al-Assad, la bête noire d'Ankara. Soupçonné par ses alliés occidentaux de soutenir ces mouvements, dont le groupe jihadiste Etat islamique (EI), le régime islamo-conservateur a toujours démenti.
Plus dure sera la chute !
Syria Smashes Al

Nusra

Leadership, Israel Admits Saudi Alliance (video)
Posted by Gordon Duff, Senior Editor on April 27, 2015
Proof of Turkish and Qatari backing of Al Qaeda
… by  Gordon Duff with Nahed al Husseini – VT Damascus
Today, two Qatari and 6 Turkish officers were killed in a commando style raid by an elite Syrian Army special forces unit.  These officers were commanding al Nusra units that entered Syria in the past 8 hours from Turkey.  In addition to the Qatari and Turkish officers, two dozen senior al Nusra military and political officers were killed, the core of their command structure.
Stories in the press over the past 24 hours have cited American and Israeli complicity in training and equipping this invading force.  With the intelligence collected after today's raid, however, there is are broader issues to consider.  First of all, al Nusra is a listed terror organization, an Al Qaeda "franchise" on every prohibited list, American and European, in existence.
Any aid or affiliation by any individual, government or organization, aiding this group, inside Syria or elsewhere is, according to legal opinions and operational guidelines established by the United States and NATO, to be considered guilty of material assistance to terrorism and subject to direct military attack no matter where on earth such an entity or organization might be.
Now we have inexorable proof that the government of Turkey, a NATO power and the government of Qatar, a treaty partner of the United States, are operating inside Syria on behalf of a clearly admitted terrorist organization assumed to be a "clear and present danger" to all nations, not just Syria but the United States as well.
Background
READ  MORE  = >
http://www.veteranstoday.com/2015/04/27/syria-smashes-al-nusra-leadership-israel-admits-saudi-alliance-video/
L'Arabie  Saoudite,  au  sommet  de  la  paradoxie.
L'an 1932 signe, suite à divers accords entre l'empire britannique et les Saouds, la naissance officielle du troisième royaume d'Arabie Saoudite, née d'une fusion entre la province du Nejd et du Hedjaz au détriment de l'empire Ottoman.
Dès lors, ce pays aura prouvé durant ses 80 ans d'existence que ses seules richesses sont matérielles et non d'ordre humain.
En fait, c'est le contraire qui aurait été étonnant, il y a de ça moins d'un siècle,  les Saouds étaient encore des bédouins, errant avec leurs troupeaux dans le désert, et malgré la découverte du pétrole et la richesse que celui-ci leur a accordé, ils leur restera toujours ce trait archaïque tribalo-féodal et conservateur qui va de pair avec une récente sédentarisation. Caractéristiques qui décrivent également leur vision religieuse, d'un islam puritain, rigoriste et belliqueux qu'ils essaient d'imposer au reste du monde musulman sunnite.
Quant aux chiites, ils sont considérés comme hérétiques et apostats, dangereux pour le monde musulman de par leurs dogmes. Et c'est pour ces mêmes raisons que l'Arabie Saoudite leur mène une guerre religieuse (dernièrement au Yémen) sous couvert d'une guerre politique.
Saviez-vous que les dépenses budgétaires pour l'armement de l'Arabie Saoudite (28 millions d'habitants) sont depuis 2013 supérieur à ceux de la France (66 millions d'habitants) ? 
Déclassé de peu seulement par l'Iran dans le classement des armées les plus puissantes du monde, on entend pourtant personne s'en plaindre. A quoi bon aussi, quand on sait qu'ils sont tenus en laisse par les Américains, en contrepartie de leur aide à garder le dollar d'aplomb grâce à la variation des prix du pétrole. Ils ne sont donc en aucune façon un danger pour les alliés américains dans la région.
Où sont nos cénacles pseudos droits-de-l'hommistes qui se sont précipités pour démocratiser le Moyen-Orient en soutenant les révolutions Libyenne et Syrienne, et qu'on voyait la semaine d'après serrer la main aux dirigeants Saoudiens, qu'on savait contre ces mêmes révolutions ?
Les mêmes qui se disent combattre Daech par des frappes aériennes, mais qui ne se privent pas des galas organisés par les saoudiens, pourtant préconisant la même vision religieuse.
Les  » différences  » entre Daech et l'Arabie Saoudite.
LIRE  LA  SUITE =>
http://news360x.fr/larabie-saoudite-au-sommet-de-la-paradoxie/
Japan  vs.  the   Islamic  State
https://news.vice.com/video/japan-vs-the-islamic-state
The brutal beheadings of Japanese nationals Kenji Goto and Haruna Yukawa by the Islamic State in January have shocked the island nation and lent momentum to an effort to expand the limitations imposed on its constitution and military after its defeat by the United States in World War II.
Leftists in Japan fear that the incident will encourage a departure from the country's pacifist constitution, whose Article 9 states that "the Japanese people forever renounce… the threat or use of force as a means of settling international disputes." Right-wingers, meanwhile, see an opportunity to allow Japan to assert itself as a truly sovereign state.
In the wake of the Islamic State beheadings, VICE News reports from Japan, where Prime Minister Shinzo Abe's push to re-militarize the pacifist nation has inspired protests from the left.
Saudi  woman  to  get  200  lashes  after  being  raped
Friday, 06 March 2015 13:18
https://www.middleeastmonitor.com/news/middle-east/17365-saudi-woman-to-get-200-lashes-after-being-raped
A woman who was violently gang raped in Saudi Arabia has been sentenced to 200 lashes and six months in jail after being found guilty of indecency and talk to the media.
The 19-year-old was in a car with a student friend when two men got into the vehicle and drove them to a secluded area. She says she was raped by seven men, three of whom also attacked her friend.
The Shia Muslim woman had initially been sentenced to 90 lashes after being convicted of violating the Kingdom's religious diktats on segregation of the sexes.
After the sentences were handed down following the rape in 2006, the woman was sentenced to 90 lashes; however her lawyer appealed to the Saudi General Court. It then doubled her sentence. At the same time, they also doubled the prison sentences for the seven men convicted of raping her, according to Saudi news outlets.
Abdul Rahman Al-Lahem, who defended the woman, reached out to the media after the sentences were handed down. The court has since banned him from further defending the woman, confiscating his license and summoning him to a disciplinary hearing later this month.
Saudi Arabia defended the controversial decision to punish the victim, saying that she was at fault for being out without a male family member, something which was met with international outcry.
"The Ministry of Justice welcomes constructive criticism, away from emotions," it said in a statement.
Please note: The rape victim and her male companion were pardoned by the late King Abdullah in Dec 2007.
ISIS  in  a  World  of  Liars  (videos)
Editor's note: The videos are key in understanding what has and hasn't been said. The failure by many to simply pay attention has been our downfall. We let liars and cheats interpret and twist what we are too lazy to listen to. That has to change.
Today Netanyahu is before congress, lying. He lied in 2002 about Iraq's nuclear program and he lying now, according to his own intelligence agencies, according to the IAEA, the CIA and everyone else. Netanyahu is a liar but hardly the only one.
Yesterday, Press TV in Iran published an article about a recent talk by General Allen, the US coordinator for the war on ISIS. Press TV quoted him as saying the US planned no fly zones over Syria and was planning to arm "moderate opposition" against Assad and to supply air power in support of their war on Damascus.
Press TV lied, they made it all up, not for the first time. It wasn't just another of their recent hoax headlines or their Zionist inspired viewpoints supporting Netanyahu against Obama and, in doing so, perhaps helping Iran play the victim.
Or is it something worse? Are there divides in Iran as there are inside Syria and Iraq?
What we are learning is this: The army the United States spent 25 or 26 billion dollars training, that plus a missing 1-2 trillion dollars in graft along (in addition to the missing trillions prior to 9/11(with missing containers of real and counterfeit American currency), that army, that Sunni led army, that Takfiri -Wahabist army, what of it exists, is largely in Anbar Province and Mosul, riding around in vehicles.
They are ISIS, the core of ISIS. Others are Jihadists trained by the CIA in Jordan or thousands more transported through Israel and Turkey, supplied there, given state of the art weaponry that the US says they plan to give their new "opposing force" to be trained in Turkey.
What the US hasn't said and where Press TV lied, is that this force will be used against Damascus or that those operations would have US air support. Press TV made that up. Why did they do it? This is no innocent lie, not when timed to Netanyahu's speech in Washington.
This kind of bad faith, we may well call it fraud or treachery, discredits Iran and shows them to be an unreliable bargaining partner to a nuclear agreement, one that is tearing the United States apart. This is sabotage.
What we do have and what General Allen makes clear to a large extent is a Sunni Iraq nobody is willing to talk about. When Petraeus was tasked by Bush and Cheney to stabilize Iraq, he was asked to do a "dark and dirty."
What Petraeus did was fund the re-emergence of the Baathists, Saddam's Sunni extremists, pay off the militias that had been fighting the US for years, and build what has turned out now to be the real core of ISIS strength.
The Sunni tribal groups spreading from Anbar to Tikrit with the core of the old Revolutionary Guard of Saddam, aided by western intelligence agencies, floods of Saudi money and an endless stream of foreign fighters, fuel and weapons from Israel, transiting Jordan with full approval of the King, trucked in through Turkey, this is what has now gotten out of hand.
This is what Netanyahu opened the door to in 2002, he and his monkeyboy Bush. Why do so many pro-Israel retired military or sitting politicians travel illegally into Syria to be photographed with Al Qaeda/ISIS/Al Nusra killers? Is this what is needed to get a paycheck from Sheldon Adelson?
Then again, what drives Press TV? We know why Netanyahu lies. View the entire Atlantic Council video below:
L'adhésion de la Turquie à l'UE sera un thème prioritaire au cours d'une visite en Turquie  (Mogherini)
US Strongly Condemns Destruction of Der Zor  Church  by  ISIS
( ՈՒՐԵՄՆ ԼՈՒՐԸ ՀԵՏԵՒԵԱԼՆ Է.    «ՄԻԱՑԵԱԼ ՆԱՀԱՆԳՆԵՐԸ ՈՒԺԳՆՕՐԷՆ/ԽՍՏՕՐԷՆ ԿԸ ԴԱՏԱՊԱՐՏԵՆ » . . . ԵՒՅԼՆ . . . ԵՒՅԼՆ . . . ԵՒ ԱՅՍ ԼՈՒՐԸ ԲՆԱԿԱՆԱԲԱՐ «ԱՍՊԱՐԵԶ»Ը ԻՐ ՆՄԱՆՆԵՐՈՒ ԿԱՐԳԻՆ ԱՄԵՆԱՅՆ ՊԱՐԾԵՆԿՈՏՈՒԹԵԱՄԲ ԿԸ ՀԱՂՈՐԴԷ, ՈՐՈՎՀԵՏԵՒ «ՀԱՅԿԱԿԱՆ ՄԻԱՑԵԱԼ ՆԱՀԱՆԳՆԵՐ» ԿԱՄ «ԹԱԳԱՒՈՐՈՒԹԻՒՆՆԵՐ» ԿԱՄ «ԷՄԻՐԷԹՆԵՐ» ԳՈՅՈՒԹԻՒՆ ՉՈՒՆԻՆ, ՈՐՊԷՍԶԻ ԱՅԴ ՊԱՐԾԵՆԿՈՏՈՒԹԻՒՆԸ  ՊՍԱԿԱԴՐՈՒԷՐ  ԱՆՈՆՑ  ԳԼԽԻՆ )
http://asbarez.com/127243/us-strongly-condemns-destruction-of-der-zor-church-by-isis/
Wednesday,  September  24th,  2014
The first photos of the Der Zor Church destruction
YEREVAN— The U.S. Embassy in Armenia issued a statement condemning the destruction of the Armenian Genocide Memorial Church in Der Zor, avoiding the term "genocide" that appears in the name of the church.
Etc.,  etc.
Qatar  has  spent  $ 3bn  over  the  past  two  years  supporting  ISIS
Posted on by ADMIN
https://themuslimissue.wordpress.com/2014/09/16/qatar-has-spent-as-much-as-3bn-over-the-past-two-years-supporting-isis/
The  Cruelty  of  Human  Sacrifice  in  the  21st  Century
Sunday,  August  17th,  2014
WORLD NEWS TOMORROW – Breaking News – Viewers Caution Sensitive Video –
A video that recently appeared on Facebook outlined the cruelty of Human sacrifice in the 21st century advertising the  ISIS  actions in clear activity. Although this video never appeared in any main stream media, one should ask why mainstream is denying such act of cruel human executions  and religious sacrifice ?
World News decided to have a deeper look and found the the video is indeed authentic. It clearly violates human rights and the promotions of  human sacrifice. Some Intelligence specialist said that the video is possibly aimed at building fear in their followers.
The UN (UNITED NATIONS ) has been widely criticized for not doing enough and little has been done other than weasel words promoted to the public at whole by its media campaign. The reality is, that this is clearly indicating something horribly has gone wrong in the mindset of our global society's leaders in their abilityto judge wrong from right !
Has the world gone into zombie mode ? According to Wall Street analysts,  the financial lubrication is that of war and turmoil.  What does the world of the future looks like if we don't see the apocalypse in sight of these global developments. Has Nostradamus indeed been right that the apocalypse is coming ?
_________________________
James Lee exclusive for World News Tomorrow USA
YouTube – Veterans Today –
                 

– Viewers Caution Sensitive Video
–
http://www.veteranstoday.com/2014/08/17/the-cruelty-of-human-sacrifice-in-the-21st-century/
AINA News
http://www.aina.org/news/20130920141002.htm
Residents of Assyrian Town Appeal for Help Against Kurdish  Government  Discrimination
Posted 2013-09-20 18:10 GMT
(AINA) — Residents of Mangesh, an Assyrian town located in the autonomous Kurdish region in north Iraq, have issued an appeal to the world community, asking for relief from harassment, intimidation and discrimination directed at them by the Kurdistan Regional Government (KRG). According to the letter, the Assyrians of Mangesh are subjected to systematic coercion to support the KRG and are prevented from exercising their civil freedoms and subjected to economic sanctions for failing to support the KRG.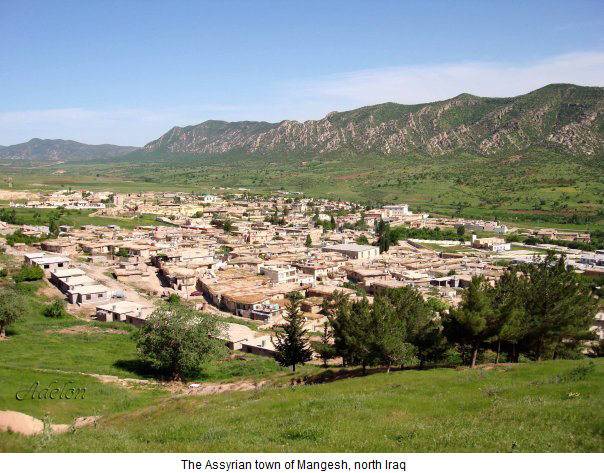 Here's the full text of the letter:
We demand that the Kurdish Regional Government (KRG) and on behalf of the people of the town of Mangesh, to stop their policies of intimidation in forcing the people of the town to vote for Kurdish supported candidates. We are appealing to civic and Human Rights organizations to put an end to these abuses by the Kurdish Regional Government.
We, the sons and daughters of the town of Mengesh are being harassed by Kurds and their agents in all aspects of our lives, below is a list of their bullying tactics:
We can't freely vote for candidates running for political office
Our lands are stolen and we are not able to speak out
We are not able to join any political party other than Kurdish parties or those parties "owned" by Kurds.
We are not able to host any representative from any of our nation's independent political parties.
We are not permitted to undertake any activity not sanctioned by the ruling Kurdish party (KDP)
We can't form any organization or any cultural center outside the realm of Kurdish control.
Any individual that attempts to stay independent or tries to join a political party that is not under Kurdish domination and specifically under the hegemony of the KDP is attacked profusely and even prevented from earning a living.
Anyone who doesn't blindly support the policies of the KDP is not able to get a government job.
Individuals that don't support the KDP or a political party controlled by the KDP are not able to register their lands in their names.
Members of the KDP have formed gangs to terrorize the residents of the town to intimidate them and to have complete control over their lives.
They (Kurds) monitor every person's moves and if they become suspicious that a certain individual has any relations with another political party not controlled by them, that person is interrogated and is threatened.
For the above reasons we're appealing to International Human Rights organizations and civil societies to help us stop Kurdish abuses because we have the right to live freely and we also have the right for self determination.
Rosa Mengesh
Steven Khanjaro
Ammo Mammo