90%  des  fonds  récoltés  pour  la réélection  de  Benjamin  Netanyahu sont  venus  des  États-Unis
Source : the Jerusalem Post  –  18 mars 2015
 http://www.agenceinfolibre.fr/info/90-des-fonds-recoltes-pour-la-reelection-de-benjamin-netanyahu-sont-venus-des-etats-unis/

    HAARETZ
Lieberman :  Disloyal  Israeli  Arabs should  be  beheaded
By Haaretz | Mar. 9, 2015 | 9:45 PM
Israeli Arabs who are disloyal to the State of Israel should have their heads chopped off, Foreign Minister Avigdor Lieberman said at an elections conference at the Interdisciplinary Center Herzliya this week.
READ  MORE = >
http://www.haaretz.com/news/israel-election-2015/1.646076
The Hidden History of the Incredibly Evil  Khazarian  Mafia  (Updated)
By Preston James, Ph.D on March 8, 2015
The curtain is now being pulled back to fully expose the Khazarian Mafia and it's evil plan to infiltrate, tyrannize the whole World and eradicate all Abrahamic Religions and allow only their Babylonian Talmudism also known as Luciferianism, Satanism or ancient Baal worship.
Note: The history of the Khazarians, specifically the Khazarian Mafia (KM), the World's largest Organized Crime Syndicate that the Khazarian oligarchy morphed into by their deployment of Babylonian Money-Magick, has been nearly completely excised from the history books.
READ  MORE = >
http://www.veteranstoday.com/2015/03/08/the-hidden-history-of-the-incredibly-evil-khazarian-mafia/
EMPIRE DU CHAOS USSIONISTE
Boris  Nemtsov  Le  Boy  De  L'Oligarchie  Mafieuse  Russe  Pro  Occidentale
Les politico médiatiques occidentaux ont transformé Nemtsov en Martyr de la cause démocratique en Russie en effaçant d'un trait dans leur oraison funèbre son passé sulfureux de Boy des oligarques russes qui ont pillé l'ex Union Soviétique sous Boris Yeltsin. Son assassinat – à l'instar d'autres avant lui – ressemble à une liquidation (Mafia russe et ou ukrainienne?) exploitée par les politico médiatiques anti Poutine pour déstabiliser la Russie.

Quand le Mossad frappe en France par rikiai
Benjamin  Netanyahu  Is  Almost  Certainly a  

Psychopath
By Jonas E. Alexis on February 22, 2015
Last January, Israeli news commentator and former politician Yossi Sarid published an article entitled, "This Israeli Politician is a Psychopath. Guess Who." This is basically an easy question.
If you are new to VT, here is a clue: the article rhetorically asked, "Could the various Knesset slates be housing people who should be receiving [psychiatric] treatment?"[1]
The article moves on to provide some definitions of a psychopath based on the Diagnostic and Statistical Manual of Mental Disorders, published by the American Psychiatric Association.
One of the definitions includes, "Repeated lying for the purpose of gratification, confusing reality and imagination." The article proceeds to ask, "Do three or more characteristics remind you of anybody?"[2]
The Sarid did not point his finger to a specific person, but in a subsequent article, it was pretty obvious that he was talking about Benjamin Netanyahu,[3] who has a long history of lying[4] "for the purpose of gratification."
Sarid was not the only writer who saw that Netanyahu was quickly precipitating to the psychopathic level. Journalist Pepe Escobar wrote in 2013:
READ  MORE = >
http://www.veteranstoday.com/2015/02/22/benjamin-netanyahu-is-almost-certainly-a-psychopath/
Le  CRIF  bluffé  par  un  Hollande  des  grands  soirs
24 février 2015
Hier soir, lors de la soirée bénie dédiée au dîner de l'Avant-garde, notre président bien-aimé, François Hollande, a exercé son unique talent d'orateur pour nous livrer un discours dont lui seul a le secret.
Un discours épatant et inattendu, axé autour du combat contre « l'antisémitisme », qui est parvenu à surprendre un auditoire ébahi par la grâce et l'éloquence de celui qui fait la fierté de tous les Français aux quatre coins du globe, redorant le blason de la Résistance française face à la haine, à la barbarie et aux points de côté.
François Hollande, n'en déplaise aux grincheux, est un grand homme d'État qui fait passer l'intérêt collectif au-dessus de ses ambitions personnelles. Son aura rappelle au monde que la France reste une grande nation sur la scène internationale, de part son influence, comme l'entretenait Charles De Gaulle en son temps.
En effet, les paillettes, le dîner à 900 € et les costards à 10 000 € pièces affichés lors de ce dîner mondain et avant-gardiste ne sont pas sans nous rappeler l'ambiance conviviale et fraternelle qui caractérisait la vie du maquisard pataugeant dans la boue et le sang, se nourrissant de racines afin de ne pas subir les affres de la famine, coincé qu'il était entre les lignes allemandes armées jusqu'aux dents.
Tel Jean Moulin, François Hollande s'est illustré en affirmant sa résistance à la haine, faisant fi des risques de baisse dans les sondages, déjà en dessous du concevable.
Un courage exemplaire qui devrait inspirer tous les hommes politiques au service du peuple de l'Avant-garde.
Contre vents et marées, François Hollande dénonce avec fougue les sources de l'antisémitisme, qui trouvent repère au sein des 10 millions d'islamo-bamboulas français pro-palestiniens et au sein des 50 millions de « Français de souche » fascistes, soit la quasi-totalité du peuple français excepté l'Avant-garde.
François Hollande appuie avec sagesse sur l'origine ethnique des profanateurs du cimetière juif du Bas-Rhin, des « Français de souche », et met l'accent sur l'abomination de l'acte ainsi que sur leur ignorance quant à la symbolique juive affichée sur les tombes, car il va de soi que si la symbolique était chrétienne, cela n'aurait été qu'un délit mineur de jeunes étourdis ne cherchant qu'à défendre de façon fort maladroite la laïcité.

Hollande veut renforcer la répression contre l… par lemondefr
Courageux, François Hollande annonce avec détermination son intention de criminaliser et de punir avec sévérité toute personne qui aurait l'outrecuidance de ne pas baisser le regard au passage d'un être de Lumière.
Un président qui rassure et qui redonne de l'estime et de l'amour-propre au peuple de France, qui retrouve en cette divine occasion un père spirituel digne de ce nom.
Certains cerveaux malades, complètement déconnectés de la réalité mondaine, n'ont évidemment pas hésité une seule seconde à blasphémer cet homme pourtant si intègre en le caricaturant en chien docile.
La haine et le fascisme ne passeront pas !
Pour la paix avant-gardiste, exigeons la mort aux « Français de souche » et aux islamo-bamboulas !
http://quenelplus.com/quenel-actu/le-crif-bluffe-par-un-hollande-des-grands-soirs.html
Flagrant  délit  de  manipulation  sur  BFMTV
Avec ce déplacement et le battage médiatique autour de ce fait divers, le monde politico-médiatique démontre une nouvelle fois que tous les citoyens français n'ont pas la même valeur.
En effet, selon les chiffres fournis par le ministère de l'Intérieur, en 2014, 206 cimetières chrétiens ont été profanés ; aucun article dans la presse nationale de masse et encore moins de déplacement présidentiel sur les lieux du délit.
À 9h37 ce matin, la chaîne d'information en continue signalait l'existence en France de « cimetières chrétiens ». À 13 h09, les « cimetières chrétiens » étaient devenus des « cimetières municipaux » ! Probablement pour ne pas trop laisser transparaître le deux poids, deux mesures flagrant quant au traitement médiatiques de ces faits divers.
L'emballement médiatique et politique est systématique lorsqu'il s'agit d'évoquer un malheur qui touche de près ou de loin à la communauté que le Premier ministre Manuel Valls positionne « à l'avant-garde de la République », créant inévitablement un climat de terreur et d'injustice au sein de la communauté nationale :
Pour l'Avant-garde, cette terreur provoque le sentiment légitime d'être la cible privilégiée d'agressions de toute sorte, alimentant de fait la politique israélienne qui prône la fuite des juifs les moins influents d'Europe pour rejoindre Israël, favorisant la démographie juive et la cohésion théologique dont se nourrit l'entité sioniste.
Pour l'Arrière-garde, le sentiment d'être délaissé, d'être un citoyen de seconde zone dont les souffrances ne sont pas considérées, dans son unique pays, la France, génère inévitablement des frustrations pouvant parfois mener à un ressentiment, fabriqué et alimenté par nos « élites », qu'ils aiment nommer abusivement de« l'antisémitisme ».
Holocaust:  A  Jew-on-Jew   False  Flag  Operation ?
By GPD on January 17, 2015
"One cow in Palestine is worth more than all the Jews in Poland." — Zionist  leader  Izaak  Greenbaum.
READ  MORE = >
http://www.veteranstoday.com/2015/01/17/the-holocaust-a-jew-on-jew-false-flag-operation/
The  Truth  About  Israel's  Secret  Nuclear  Arsenal
Israel has been stealing nuclear secrets and covertly making bombs since the 1950s. And western governments, including Britain and the US, turn a blind eye. But how can we expect Iran to curb its nuclear ambitions if the Israelis won't come clean?
Deep beneath desert sands, an embattled Middle Eastern state has built a covert nuclear bomb, using technology and materials provided by friendly powers or stolen by a clandestine network of agents. It is the stuff of pulp thrillers and the sort of narrative often used to characterise the worst fears about the Iranian nuclear programme. In reality, though, neither US nor British intelligence believe Tehran has decided to build a bomb, and Iran's atomic projects are under constant international monitoring.
The exotic tale of the bomb hidden in the desert is a true story, though. It's just one that applies to another country. In an extraordinary feat of subterfuge, Israel managed to assemble an entire underground nuclear arsenal – now estimated at 80 warheads, on a par with India and Pakistan – and even tested a bomb nearly half a century ago, with a minimum of international outcry or even much public awareness of what it was doing.
Despite the fact that the Israel's nuclear programme has been an open secret since a disgruntled technician, Mordechai Vanunu, blew the whistle on it in 1986, the official Israeli position is still never to confirm or deny its existence.
When the former speaker of the Knesset, Avraham Burg, broke the taboo last month, declaring Israeli possession of both nuclear and chemical weapons and describing the official non-disclosure policy as "outdated and childish" a rightwing group formally called for a police investigation for treason.
Meanwhile, western governments have played along with the policy of "opacity" by avoiding all mention of the issue. In 2009, when a veteran Washington reporter, Helen Thomas, asked Barack Obama in the first month of his presidency if he knew of any country in the Middle East withnuclear weapons, he dodged the trapdoor by saying only that he did not wish to "speculate".
UK governments have generally followed suit. Asked in the House of Lords in November about Israeli nuclear weapons, Baroness Warsianswered tangentially. "Israel has not declared a nuclear weapons programme. We have regular discussions with the government of Israel on a range of nuclear-related issues," the minister said. "The government of Israel is in no doubt as to our views. We encourage Israel to become a state party to the nuclear Non-Proliferation Treaty [NPT]."
But through the cracks in this stone wall, more and more details continue to emerge of how Israel built its nuclear weapons from smuggled parts and pilfered technology.
The tale serves as a historical counterpoint to today's drawn-out struggle over Iran's nuclear ambitions. The parallels are not exact – Israel, unlike Iran, never signed up to the 1968 NPT so could not violate it. But it almost certainly broke a treaty banning nuclear tests, as well as countless national and international laws restricting the traffic in nuclear materials and technology.
The list of nations that secretly sold Israel the material and expertise to make nuclear warheads, or who turned a blind eye to its theft, include today's staunchest campaigners against proliferation: the US, France, Germany, Britain and even Norway.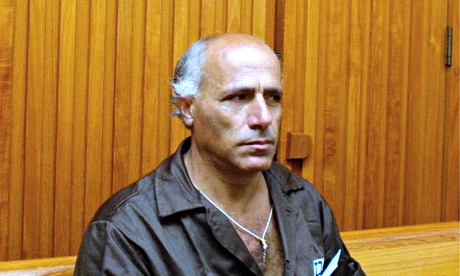 [Whistleblower Mordechai Vanunu. Photograph: AP]
Meanwhile, Israeli agents charged with buying fissile material and state-of-the-art technology found their way into some of the most sensitive industrial establishments in the world. This daring and remarkably successful spy ring, known as Lakam, the Hebrew acronym for the innocuous-sounding Science Liaison Bureau, included such colourful figures as Arnon Milchan, a billionaire Hollywood producer behind such hits as Pretty Woman, LA Confidential and 12 Years a Slave, who finally admitted his role last month.
READ  MORE = >
https://www.popularresistance.org/the-truth-about-israels-secret-nuclear-arsenal/
Sodomy  and  Zionist Dark  Matter  (Part II)
By Jonas E. Alexis on December 20, 2014
To be "enlightened" in the Jewish Century, you have to slaughter innocent people  (namely the Goyim),  defend torture,  defend pornography,  and  demonize  countries  you  do  not  like.
READ  MORE = >
http://www.veteranstoday.com/2014/12/20/sodomy-and-zionist-dark-matter-part-ii/
Zionist Appetite for Destruction  (Part I)
By Jonas E. Alexis on December 18, 2014
Zionism cannot exist without the blood of the Goyim
http://www.veteranstoday.com/2014/12/18/zionist-appetite-for-destruction-part-i/
The  Prosecution  of  Zionist  Torturers
By Jonas E. Alexis on December 16, 2014
Wouldn't it be nice to see people like Dick Cheney, George W. Bush, Condoleezza Rice,  Donald Rumsfeld,  Colin Powell,  among others,  in  the  court  room ?
by Jonas E. Alexis
Top U.N. officials have recently said that "All senior U.S. officials and CIA agents who authorized or carried out torture like waterboarding as part of former President George W. Bush's national security policy must be prosecuted."
Wouldn't it be nice to see people like Dick Cheney, George W. Bush, Condoleezza Rice, Donald Rumsfeld, Colin Powell, among others, in the court room?
Wouldn't it be entertaining to hear their defense as to why they water-boarded "suspected terrorists"—a practice that was unknown to the American psyche prior to the Neo-Bolsheviks taking over the U.S. foreign policy?[1] Didn't we execute Japanese war criminals for water-boarding American POWs?[2]
Even John McCain, the "founding father of ISIS," as Gordon Duff rightly put it last month, declared explicitly,
"The Japanese were tried and convicted and hung for war crimes committed against American POWs. Among those charges for which they were convicted was waterboarding."[3]
The Zionist puppet moved on to say, "I know from personal experience that torture doesn't work."
READ  MORE = >
http://www.veteranstoday.com/2014/12/16/the-prosecution-of-zionist-torturers/
World  must  Denuclearize  Israeli  Regime
By Jim W. Dean, Managing Editor on December 15, 2014
"Israel is not only a dead man walking…but with a suicide belt on."
…by  Jim W Dean, VT Editor   … with Press TV,  Tehran
The world should take solid steps to disarm Israel as part of efforts to make the Middle East a nuclear weapons-free zone, a prominent political commentator says, Press TV reports.
You can watch the 3:30 minute interview on PressTV here. I am curtailing using embeds as the audio degradation is so bad that we have to find another software that will preserve quality.
Jim W. Dean, the managing editor of Veterans Today, said in an interview with Press TV that the Israeli nuclear weapons threaten the peace and stability of the whole Middle East.
http://www.veteranstoday.com/2014/12/15/world-must-denuclearize-israeli-regime/
' Jew,  Judaism,  Jewishness '
By Gilad Atzmon on November 28, 2014
http://www.veteranstoday.com/2014/11/28/jew-judaism-jewishness/
Israel,  ISIL  have  a  lot  in  common
By Kevin Barrett on August 28, 2014
Both of these terrorist entities define themselves in terms of rigidly sectarian ideologies. Both are squatting on stolen land. Both brutally trample on the rights of those they consider lesser beings – simply because they hold "second-class" religious views. And both proudly commit horrendous atrocities.
The world's Jews are becoming increasingly uncomfortable with so-called State of Israel, which purports to represent them without ever having asked their permission. (Israel defines itself as the so-called state of, by and for all Jews, and gives all Jews everywhere the automatic right to Israeli citizenship – while denying citizenship to most non-Jews, including the vast majority of Palestinians, simply because they profess another religion.)
Ex-liberal-Zionist Anthony Lerman, writing in the New York Times, has just written a political obituary entitled "The End of Liberal Zionism." Like many other Jews, Lerman recognizes that it is becoming impossible for liberal, tolerant, reasonable Jewish people to continue to support the so-called Jewish State of Israel.
Saturday's New York Times also featured an ad placed by anti-Zionist Jews attacking "Israel's wholesale efforts to destroy Gaza and the murder of more than 2,000 Palestinians, including many hundreds of children." The ad was signed by 237 survivors and descendants of survivors of the Nazi holocaust.
Last week Henk Zenoli, a Dutchman who helped save a Jewish boy from Nazis during World War II – and whose father died in a Nazi concentration camp – returned his "Righteous Among Nations" award to Israel. He said the award, given to non-Jews who helped Jews during the holocaust, no longer meant anything given the "murder carried out by the [so-called] State of Israel."
Zenoli has felt Israel's murderousness personally. He has lost six relatives– so far – to Zionist butchers during this summer's Israeli assault on Gaza.
Today, the real holocaust is in Occupied Palestine.
READ  MORE = >
http://www.veteranstoday.com/2014/08/28/israel/
Israel,

A Nation of Hate
By Sami Jamil Jadallah on September 3, 2014
(August 30, 2014) – Israel was created from the ashes of the Nazi Holocaust. Undeniably, Jews in Europe were dehumanised, repressed and then gassed in the millions -an experience Zionists purport to have shaped the psyche of Jews.
Yet this horrible experience was wasted as most Jews learned very little from it. The nation that sprouted out of hatred towards Jews was founded on the premise of doing wrong to other people.
To Palestinians, Israel has become a mirror image of what Jews were subjected to in old Europe. German crowds cheering the slaughter of Jews have been replaced by Israelis cheering the murder of Palestinians by a Jewish army. Or Yehuda City Council posted a banner calling on Israeli soldiers to